Model NO.:

VA-48

Condition:

New

Working Lifetime:

3-5 Years

After-Sales Service Providede:

Overseas Service Center Available

Packaging Detail:

Wooden Package

Delivery Detail:

Within 3-7 Days Once Payment Confirmed

Specification:

CE

HS Code:

8436210000
Brand Name:

Vena Incubator Manufactory

Free Parts:

Spare Parts for Free

Control Mode:

Full Automatic

Warranty:

1 Years

Hatching Rate:

≥98%

Trademark:

Vena incubator

Origin:

Jiangxi
Good Quality Best Price Factory wholesale family use
commercial mini chicken  Egg Incubator Va-48

Chicken Egg Incubator Characteristic
It is suitable for families and specialized households to incubate chickens, birds, ducks and geese, etc.This incubator is produced under strict CE test and has good reputation from the peasants in the rural area,especially in eastern European countries. The incubator has the characteristics of strong practicality, Easy operation and long service life
Chicken Egg Incubator Product Function
1) Automatic egg turning for incubator 
2)High and low temperature alarm, high and low humidity alarm
3) Recorded days of incubation 
4) Add water outside with free water dropper
5) Lower cover is transparent, very easy to observe
6) Easy to operate. Automatic temperature control and automatic incubator display for temperature&humidity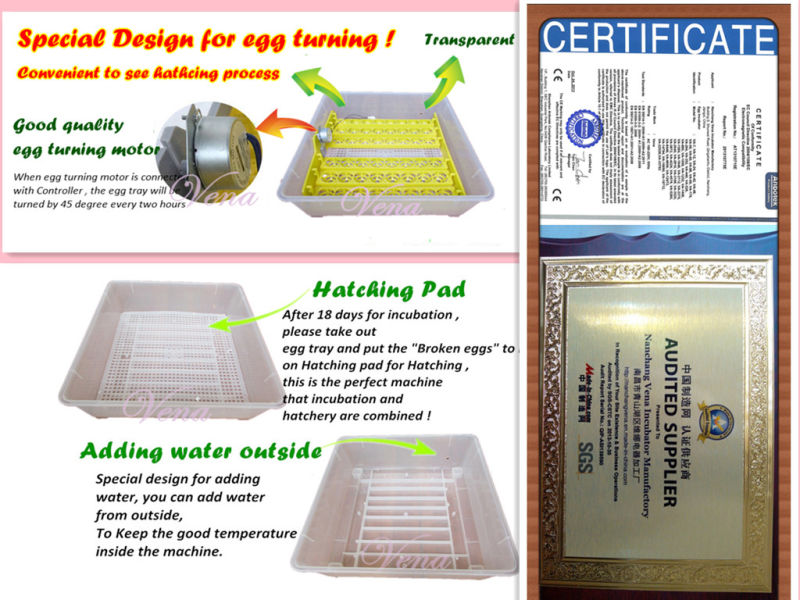 1. Testing you unit for the first time:
 
1.1 Connect the egg turner plug to the control plug inside the egg compartment.
 
1.2 Connect the provided power supply to the back of the unit and your power source.
 
1.3 Switch on your power source.
 
1.4 Switch your unit on.
 
1.5 You will hear an alarm sounding due to low temperature/humidity.
 
1.6 Press any of the green buttons to cancel the alarm.
 
1.7 By opening the incubator and filling the water channels you will notice the humidity
 
      reading increase.
 
1.8 Let the unit run for 2 hours to note the egg turner turning.
 
Incubator ,chicken incubator , egg incubator 
 
2. Setting the temperature
 
2.1 Push "SET" once.
 
2.2 Push "+" or "-" to select the desired temperature.
 
2.3 Push "SET" once more to exit.
 
- These incubators are factory set at 38oC, I found the chicks hatch at day 19 to 
 
  20 meaning the temperature being to high. Using the method as described
 
  above. I recommend you set the temperature at 37.6oC.
 
3. Temperature alarm parameter settings (AL and AH)
 
The temperature alarm is factory set to sound at 1oC over or below the set temperature. This is sufficient and you do not need to make any changes to these settings.
 
3.1 Low temperature alarm parameter setting. (AL)
 
3.1.1 Press and hold "SETT" for 3 sec.
3.1.2 Push "+" or "-" until code "AL" appears in the temperature screen.
3.1.3 Push  "SET"
3.1.4 Push "+" or "-" to adjust to your desired lower alarm setting.
3.2 Higher temperature alarm parameter setting (AH)
3.2.1 Press and hold "SETT" for 3 sec.
3.2.2 Push "+" or "-" until code "AH" appears in the temperature screen.
3.2.3 Push  "SET"
 
3.2.4 Push "+" or "-" to adjust to your desired higher alarm setting.
 
Incubator ,chicken incubator , egg incubator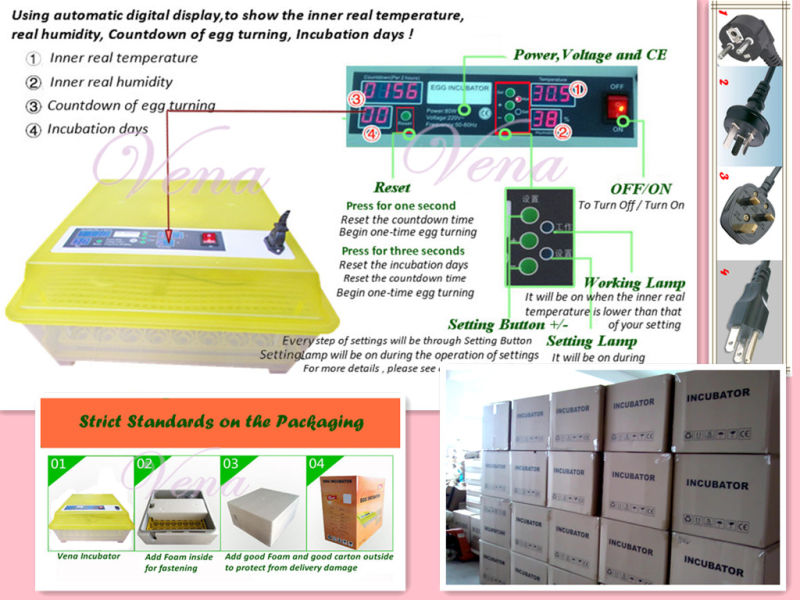 FAQ of  Chicken Egg Incubator.
 
Q: First time to buy things online overseas, how can I believe that you would send incubator ?  
 
A: We are verified company by Alibaba and we have incubator SGS inspection certificate, for the first time cooperation , there's indeed trust problems between customers and suppliers , but don't worry , we accept ESCROW payment . In future incubator business cooperation , please consider T/T or western union as we know very well with each other and we are good partners and friends 
 
Q: How to ensure that I will receive the incubator without any shipping damage?  
 
A: First , we package is standard for shipping, before pick up , please confirm that goods are without damages, Another we've bought insurance for you, if there's any damages, we or ship company will  take  the responsibility.  
 
Q:Â How's the after-sell services for incubator ? Â  Â 
A: Our Chicken Egg Incubator enjoys 3 years warranty,  Any problem, please contact us as soon as possible through email or phone (0086 15970636487) , we will make a response within 24 hours!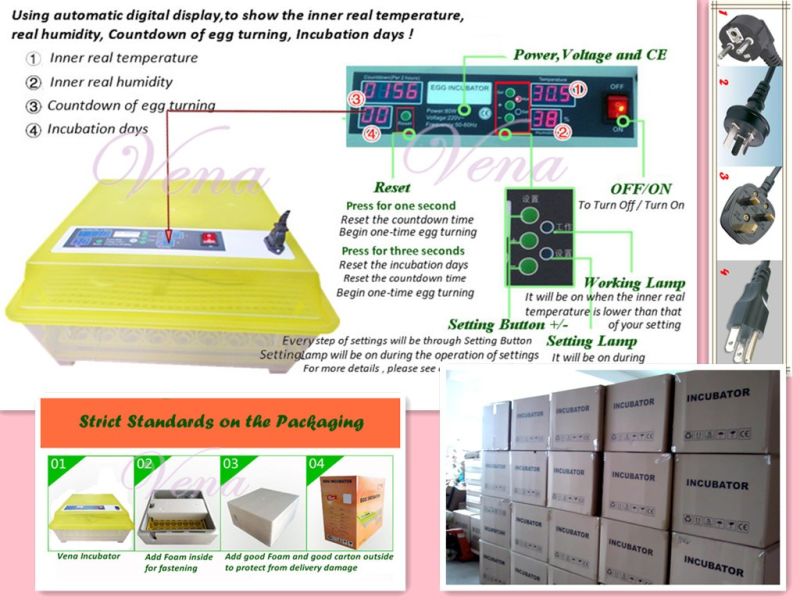 INTRODUCTION:


High Speed Mixing Granulator is a highly versatile machine suitable for dry mixing and wet granulation in the same bowl and in short time cycle. Rapid Mixer Granulator based for chemical and pharma industry. The complete operation is done within 10-30 minutes. The entire operation is performed in a closed dust free environment and the complete operation is automatic, including the discharge. The main assembly consists of a main Rapid Mixer Granulator mixing bowl made out of S.S. 316 quality, highly polished to give a mirror non-stick finish. The bowl is provided with two impellers, the main mixing impeller is mounted vertically with a horizontal rotation and the chopper blade is mounted on the side and rotates in the vertical axis. The main mixing assembly is provided with four blades, two for mixing and two for pushing the material upwards. The complete assembly is mounted on a suitable bearing housing provided beneath the bowl with specially designed seal and air purging arrangement. The complete assembly is coupled to a suitable gear box and motor through a belt assembly. Rapid Mixer Granulator mixing blade is provided with a dual speed motor for two sets of mixing RPMs and can optionally be provided with VFD for variable frequency. Rapid Mixer Granulator designed to achieve excellent fast Drying Machine at the low price with high productivity The chopper blade is a high speed blade with provided with specially designed blades to break the lumps into smaller granules with a short cycle time. The assembly is provided with a suitable bearing housing directly coupled to a suitable motor. The chopper rotation as a standard is at high speed can optionally be provided with VFD for speed variation. The top of the bowl is a dish-end provided with mechanically balanced loads for assisting in opening and closing the top lid. It is provided with standard parts for charging, view and air vent parts. The top can optionally be provided with pneumatic lifting arrangement in place of the mechanical loads. The discharge is provided with a pneumatically operated valve for complete and automatic discharge at the end of the cycle. The valve is provided with suitable 'O' rings for leak proof operation. The complete structure is mounted on a sturdy platform duty cladded with S.S. Dimpled sheets, provided with a stair case with railings. The sides of the platform are cladded with S.S. 304 sheets and mirror polished as per GMP standards. An electrical panel of S.S. With the contactors, relays. Timers on -off push buttons for the main motor, on-off push button for the chopper motor, pneumatic open – close for the discharge valve etc. on the platform for ease in operation. The Rapid Mixer Granulator machine can optionally be provided PLC for fully automatic operation and data logging.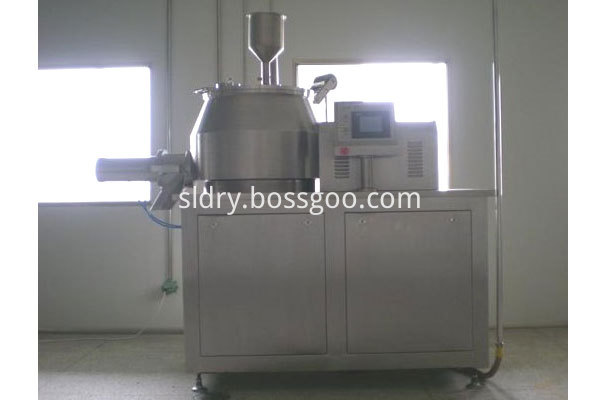 CHANGZHOU SULI DRYING EQUIPMENT CO.,LTD.specializing in the production of Mixing Dryer, Spray Dryer, Granulation Dryer, Crushing Dryer, 3D Motion Mixer and V-shaped Mixer.
High Speed Mixing Granulator
High Speed Mixing Granulator,Super Mixer Granulator,Efficient High Speed Mixing Granulator,High Speed Mixing Granulator Equipment
Changzhou Su Li drying equipment Co., Ltd. , http://www.sldrying.com