According to Li Pumin, Secretary-General of the National Development and Reform Commission, China's current budgetary investment structure is further tilting toward water conservancy construction. In 2014, the central budget investment for water conservancy projects such as major water conservancy projects and rural drinking water safety projects reached 76.7 billion yuan, an increase of 5 billion yuan over the previous year. As of now, all the central budget investment for water conservancy construction has been completed this year.
Zhang Minglun pointed out that in order to further promote the reform of the water conservancy investment and financing system, the National Development and Reform Commission will consider in the future, relax market access, innovate financing mechanisms, and encourage and attract social investment to participate in major water conservancy projects with certain economic benefits.
Encourage social capital to participate in the construction and operation of major water conservancy projects with certain revenues through various forms such as franchising, equity participation, etc., establish a sound government and social capital cooperation mechanism, and rationally select cooperation models such as BT, BOT and equity investment; For guiding and leading use, for major water conservancy projects that encourage social capital to participate and have certain operating income, government investment should give priority to support, and guide and support them through investment subsidies, capital injection, loan interest subsidy, etc. according to different conditions of the project; Innovate financing methods, broaden financing channels, explore pledged loans with projected benefits such as engineering water supply and power generation, give full play to the role of policy-based financial institutions, provide long-term stable, relatively low-cost financial support for the construction of major water projects, and improve pricing mechanisms to ensure The project has a reasonable level of profitability and enhances its ability to attract social investment. For example, the water supply price of a water conservancy project should be reasonably determined according to the principle of compensation cost, reasonable income, high quality and price, and fair burden. It should also be based on changes in the cost of water supply and social affordability. Adjustment.
"Rural drinking water safety" is a point of this water conservancy construction. How to solve the problem of drinking water safety requires that we first find a good source of water, establish a good water supply channel, and secondly use advanced water treatment equipment to deal with water sources that may be polluted and ensure the safety of drinking water. . Water treatment equipment can be mainly divided into several categories: sewage treatment equipment, raw water treatment equipment, water purification equipment, and filtration equipment.
The growing demand for human-made water treatment equipment and constant attention to water pollution control have also led to the development of related professional component products. Globally, there are more and more enterprises producing multi-channel control valves and composite pressure vessels. Although the market demand is still mainly concentrated in the more developed countries of North America and Western Europe, due to cost advantages and the rapid development of emerging markets, professional components Manufacturers mainly transfer to emerging markets such as Eastern Europe, Asia, and South America. At present, the production scale of composite pressure vessels and multi-channel control valves in North America has a high global share. With the continuous increase in the manufacturing capacity of Chinese-related companies, the proportion of its components in the global professional component market is also rising. .
Powder Coating Line is widely used in painting hardware like metals,and plastic.Powder coating line has electrostaticpainting.Powder coating line is used in painting like zinc,aluminum,steel and othere kinds of metal.It includes inner painting,outer painting,cleaning line.Our company can design the powder coating line for you as your requirement, like environment protection,processing capacity,workshop area,automatic painting,manual painting,one time painting,second time painting,automatic cleaning,manual cleaning,oily paint,water-based paint...etc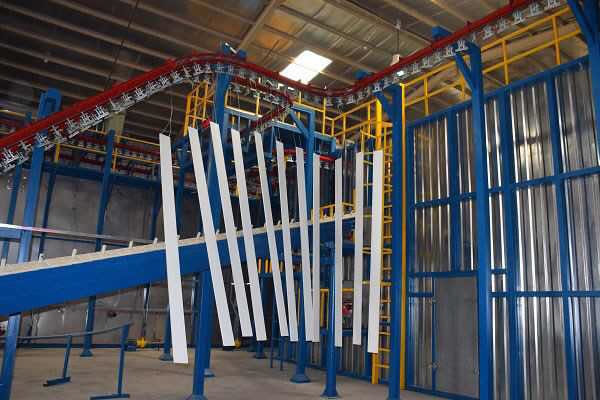 Powder Coating Line
Powder Coating Line,Spray Line,Metal Powder Coating Line,Abs Painting Line
Shenzhen Hongdali Machinery Co.,Ltd , http://www.conveyortop.com