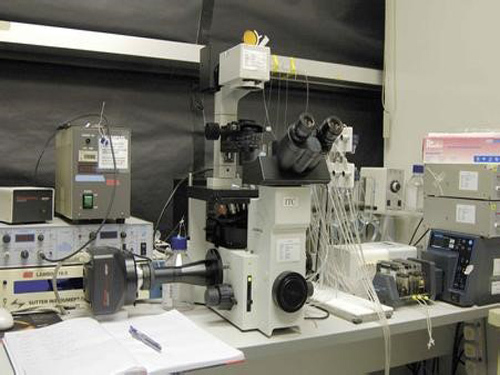 After verification and publicity by third parties and professional agencies, 168 enterprises in Hubei Province enjoyed 2013 corporate R&D test subsidies, totaling 9.709 million yuan. At present, all the subsidies have been fully paid.

On November 15th, Premier Li Keqiang chaired a State Council executive meeting and decided to implement a universal fee reduction to further reduce the burden on enterprises, especially small and micro enterprises. According to the content of the meeting, it is expected to reduce the burden on enterprises and individuals by more than 40 billion yuan each year.

In fact, since the beginning of this year, the executive meeting of the State Council has repeatedly introduced measures to support the development of small and medium-sized enterprises. For instance, the meeting on May 30 this year decided to further reduce and standardize enterprise-related fees and reduce the burden on enterprises; the deployment of the meeting on September 17th will further support small-scale enterprises. Micro-enterprise development promotes mass innovation in public entrepreneurship; the October 8 meeting decided to revise the government-approved list of investment projects again, and the November 5 meeting put forward streamlined pre-approval and standardization of intermediary services, all aimed at creating incentives for public entrepreneurship , a good environment for innovation.

As the Chinese economy has entered a new normal, the development of SMEs has also encountered some new problems. Some experts pointed out that the State Council's introduction of a more than 400 billion yuan fee reduction "gift pack" will undoubtedly help boost confidence in the development of small and medium-sized enterprises and better release the driving force for economic development.

In order to encourage SMEs to actively use financial instruments to purchase scientific instruments and equipment, increase the use of scientific equipment and reduce the cost of innovation. In addition to "reduction of fees," since 2013, the Hubei Provincial Department of Science and Technology has organized and implemented the "Science and Technology Enterprise Entrepreneurship and Cultivation Project" to "add subsidies" to the innovation and development of SMEs.

According to "Hubei Provincial Science and Technology Department, deepen the reform of the science and technology system, promote the implementation of the "Innovation in Hubei" construction implementation (Trial)" spirit. According to statistics, this year's Hubei Provincial Science and Technology Department adopted the first subsidy method for this year, taking out 10 million yuan from the special funds for scientific and technological conditions, and engaged in research and development activities such as new products, new technologies, and new technologies for high-tech enterprises and incubators in the province. The test fee is subsidized. The specific subsidy standards are: use the R&D test of the provincial instrument, calculate the test subsidy according to the 30% standard; use the R&D test of the equipment outside the province to calculate the test subsidy according to the 10% standard.

It is understood that the Hubei Provincial Department of Science and Technology plans to further increase the promotion and training of R&D testing and subsidy work for enterprises and strengthen the training of relevant personnel of the city's science and technology management departments and enterprises so that this policy can truly benefit the company.

A Trapezoidal Sheet Roll Forming Machine is a regular metal sheet roll former that produces metal roofing sheets or roof panels for both individual and industrial building.
Trapezoidal roofing sheets are the most popular metal roof panels not only for residential buildings but also for commercial or industrial buildings. There are so many different profiles for a variety of applications. People like to use low-profile trapezoidal sheets for elevation and IDT roofing, while for wide-span roofing and load-bearing structures, they tend to select high-profile trapezoidal sheets. In addition, trapezoidal sheets have other names in Africa as industrial trough IT4, IT5, IT6 roof profiles, therefore people can barely find two exactly the same trapezoidal sheet Roll Forming Machine in the markets.
Brief introduction of Trapezoidal Roof Sheet Roll Forming Machine:
TR750 Trapezoidal Sheet Roll Forming Machine
This trapezoidal sheet roll forming machine produces trapezoidal sheets from colour ppgi, gi, aluzinc sheets, and sometimes aluminium steel coils (aluminum roof panels are prefered in Nigeria). Generally, material thickness varies from 0.3 to 0.8mm, and width varies from 914mm to 1250mm. However, in some applications, material thickness can reach up to 1.5mm, like roof deck. Furthermore, in some countries or areas, people use G550 material to make full hard metal roofing sheets.
Sometimes when a client needs to produce trapezoidal sheets with different effective widths with anything else remained the same. In this case, the investment shall be made on only one machine, because a trapezoidal Roof Panel Roll Forming Machine is always adjustable for different feeding widths. This means you can make trapezoidal roof panels with different effective widths from different-width materials. However, a client must need two trapezoidal sheet roll forming machines for manufacturing two panels at the same time.
Just like the regular roof sheet roll former, a trapezoidal sheet roll forming machine typically consists the components as following:
Entry/feeding Guide

Roll Forming Unit

Hydraulic Unit

Cutting Unit

Control system

Runout Tables
Technical Parameters of Trapezoidal Sheet Roll Forming Machine: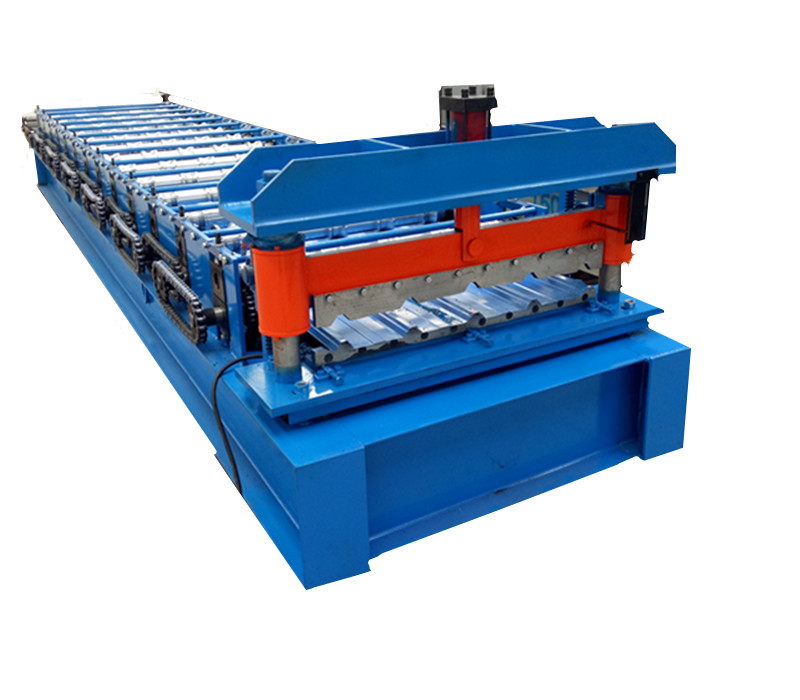 Uncoiler: Manual Uncoiler (a Hydraulic decoiler is optional);

Inner diameter : 480-520mm;

Outer diameter: 1250mm;

Loading weight: 5TONS;

Material width: 914-1250mm;

Material thickness: 0.3-0.8mm (sometimes upto 1.5mm maximum, depends on techncial requirements);

Forming speed: 0-12m/min (high speed is optional as per request);

Forming stations: 16-22 forming stations (subject to the technical drawing of profiles)

Roll forming stands structure: conjoint type

Material of Roller: high quality 45#steel with the surface mirro polishing and coated with hard chrome 0.05mm.

Material of Shafts:45# high-quality steel;

Diameter of Shafts: 70mm (80-90mm if the thickness over 1mm);

Thickness of Siding Plate: 18mm;

Transmission: by chain-brackets;

Motor Power: 5.5 KW

G550 Full Hard Trapezoidal Roofing Sheet Roll Forming Machine with safety guard equiped

Material of cutting blade:Cr12 with quenched treatment 60-62 degrees;

Hydraulic Power: 4KW;

Cutting Lengths and Quantities: Customer can set required lengths and quantites clients through the touch screen on PLC control box.

Cutting tolerance: +/-2mm

Control system: Panasonic PLC, Inverter, CHNT transformer and HMI

Voltage: 380V/50HZ/3phase
There are different names for trapezoidal sheet roll forming machines in some regions or areas! For example, in Africa, people like to metra roll forming machine, and sometime they give the name industrial trough IT4, IT5, IT6 roof sheet roll forming machineetc.
MAXON designs and builds customized trapezoidal sheet roll forming machines. For instance, some customers ask for G550 metal roofing sheet roll forming machine, some customers may prefer a separate forming stands structure trapezoidal sheet roll forming machine, or some customers may need safety guard on the roll forming machine body etc.
Trapezoidal Sheet Roll Forming Machine
Trapezoidal Sheet Roll Forming Machine,Trapezoidal Joint Type,Tile Making Machine,Metal Sheet Roll Forming Machine
Botou Golden Integrity Roll Forming Machine Co.,Ltd , http://www.jcxsteelrollformer.com