It is reported that Simrad has launched the Simrad R2009 and R3016 radar controllers. These two dedicated radar displays will be complemented by Simrad's award-winning radar antenna solution. The Simrad R2009 radar controller will be equipped with a 9-inch image display. The Simrad R3016 radar controller will be equipped with a 16-inch wide-screen display.
Both displays will utilize the latest generation of digitally tuned intuitive control interfaces to optimize situational awareness under most adverse conditions. When paired with Simrad's wideband 3G/4G radome or Halo Pulse Compression arrays, excellent target resolution will be achieved by using beam sharpening techniques.
It is understood that the R2009 and R3016 radar controllers are very suitable for use as "independent" dedicated radar stations. Commercial controllers will appreciate this professional-grade interface and convenient installation, even in demanding retrofit applications.
The Simrad R2009 and R3016 radar controllers have rugged brackets for tough working environments and embedded mounting options that meet IPX7 waterproofing requirements from all sides. The two radar controllers operate with a comprehensive keyboard and a rotary dial with a direct access button along the on-screen menu selection real controller. Whether it's a high-speed voyage or gloved operation, this proven control system is very comfortable when sailing on rough seas.
The 9-inch R2009 radar controller comes with a full-color display that can be used in the wheelhouse or a high-intensity brightness of approximately 480x800 pixels in direct sunlight illumination. This compact package, high resolution and extreme color combination is an alternative to existing radars. The radar's Peripheral Interface (PPI) will be accompanied by a large read-only information panel that is clear enough to identify targets and hazards.
The 16-inch R3016 radar controller is equipped with a 1366x768 pixel HD (15.6-inch) horizontal display. Equipped with a 180mm very detailed radar peripheral interface, this broadband display helps provide reorganization space for additional ship data, radar settings and target tracking information. For safe and effective control, the operation of the menu does not require hiding the radar image. The High Definition Multimedia Interface (HDMI) output provided will be used to set up an optional secondary remote monitoring.
The R2009 and R3016 radar controllers will be shipped to users at the end of the first quarter of 2016.
High-demanding welded and High Strength Fender Frame, assembled with UHWM-PE sliding block and fender ball, can be used for engineering ship ,dredge, used to prevent collision and protect the ship or port. The construction is to be built according to the drawing with rules of good workmanship.
Photos of Fender Frame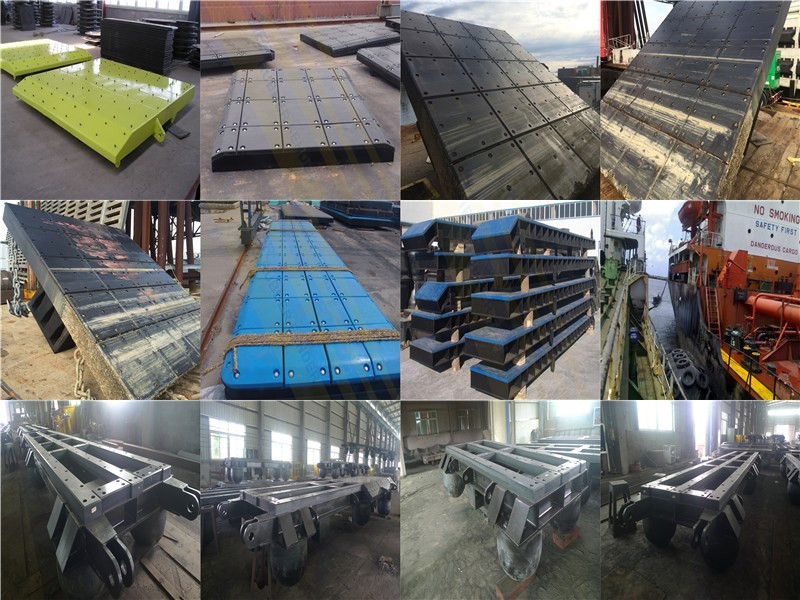 Marine steel refers to steel used to make hull structures for ships and vessels of inland waters, usually of high quality carbon steel and low alloy steel. The ship steel requires a certain strength, toughness and certain low temperature and corrosion resistance, and requires good welding performance.

Core business of Unisite
Marine pipeline engineering equipment,marine steel structure,ship accessories,mooring equipment,machinery and equipment
dredging parts, marine engineering and parts, shipping building parts, Machining Parts, land reclamation and offshore part,
Pontoon and Floating Platform, sinker shore Floating Pipe Line and Y-piece Bend, Piling Pipe , spud and Suction Pipe line , Dredge Gate Valve and Valve Body and Chute Flap , Mooring equipment, shaft bush ring flange bolt nut and other parts, casting pipe and Pump Cover ,
Bottomdoor Overflow and Fender frame and Kingpin, all kinds of Shipping building pipe and structure
Fender Frame
Customized Fender Frame,Marine Fender Frame,Fender Frame For Sales,High Strength Fender Frame
Unisite Group Ltd. , https://www.shipsparts.nl