Usage:
Making Welded Wire Mesh
Life Time:
More Than 10 Years
Control System:
PLC Touch Screen
Transport Package:
According to Customer′s Request
Specification:
ISO/ SGS/CE
3D EPS Panel welding machine production line

 
 
The 3D panel is a unique and effective way to easily create a strong insulated concrete building or wall. 3D panel are widely used in every type of concrete structure because of the flexibility of design and ease of use. Thousands of structure and walls have been built around the world with 3D panel. Many of them use the panel for all elements of the structure including walls, floors, stairs and trim. 3D panel is used for affordable housing all the way to multi-million dollar housing, residential, commercial, institutional multi-story all can be created easily with this remarkable code-approved method.
 

 
 
3D panel machine line introduction:
 
The 3d panel Production machine line mainly consists of 2Â machines, one is Steel Net Welding Machine and the other is Wire Inserting &Â Welding Machine (3d panel machine).
 
 This model of 3d panel machine line adopts PLC and touch screen system, strictly positioning of wire meshes, EPS panel and the truss wire crossing panel.
 
 Featuresof the 3D Panel and eps board machine lines
 
 
1)Â Â Â Â Â Â perfect flatnessof wire mesh panel
 
2)Â Â Â Â Â Â strong welding strength
 
3)Â Â Â Â Â Â Low joint omitting rate
 
4)Â Â Â Â Â Â High accuracy on truss wire inserting, truss wire length and mesh size.
 
5)Â Â Â Â Â Â One machine is able to produce different kinds of 3d panel with different quantity of truss wire, so as to realize different propose of use.
 
6)Â Â Â Â Â Â Main components used in the machine are of famous brand both at home and abroad
 
7)Â Â Â Â Â Â PLC controlled. Operated through touch screen
3D panel production machine line
High automatic technology, low joint omitting rate, large joint strength, smooth quality prod  
 
Rated electrical power
75KVA
Input voltage
AV380V 50Hz
Air sourcallocation
3 cubic meter/min  0.6MPa
Applicable range
Core panel thickness
50mm-100mm
Truss wire configuration
Single or double sided mesh, different densities of truss wires
Production standard
Standard sandwich panel
length
3000mm
width
1220mm
Nonstandard sandwich panel
The length according to your requirement ≤6000mm
Material characteristics
Welded wire material
2.0-3.0mm cold-drawing low-carbon steel wire
Core panel material
Anti-flaming EPS board &Â XPS board
Grid space of mesh
52mm*50mm(A-model) /Â 
50mm*50mm(B model)
Lacking welding rate
≤5%
Welding strength
Single point≥330N
Overall dimension
length
13500mm
width
1800mm
height
1700mm
Weight
4000kg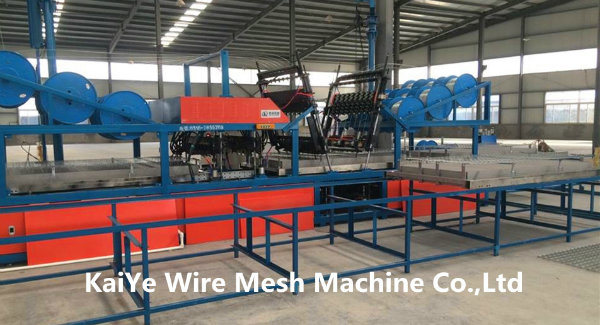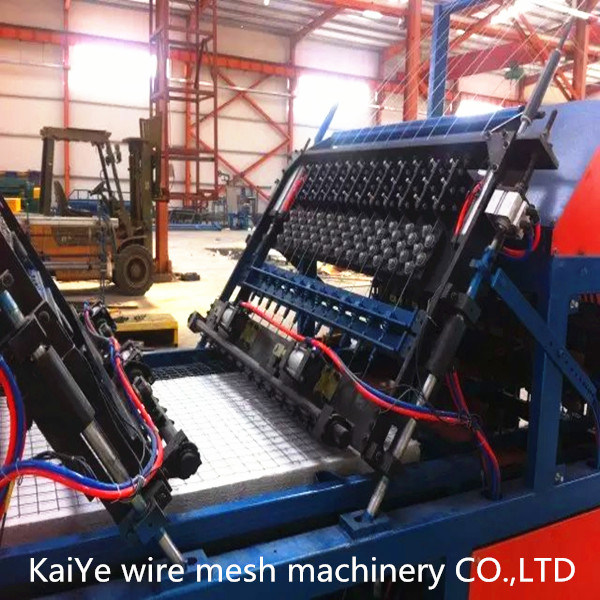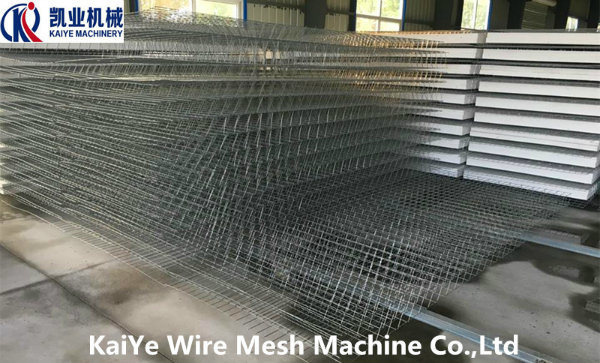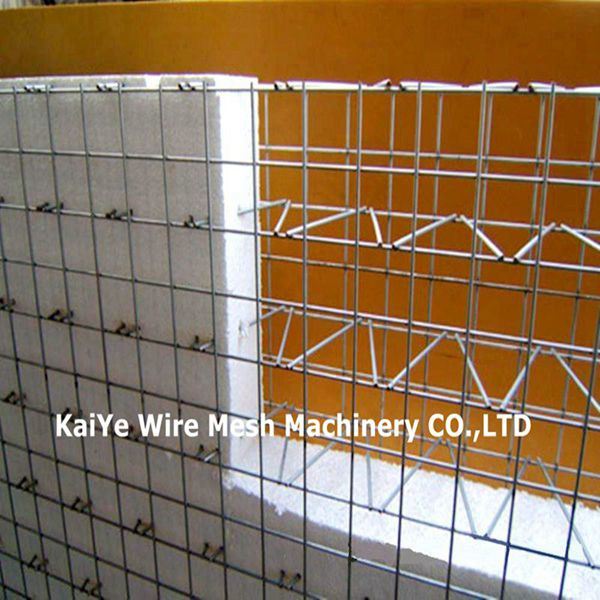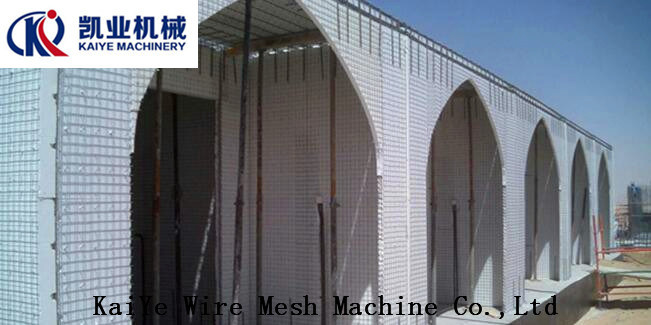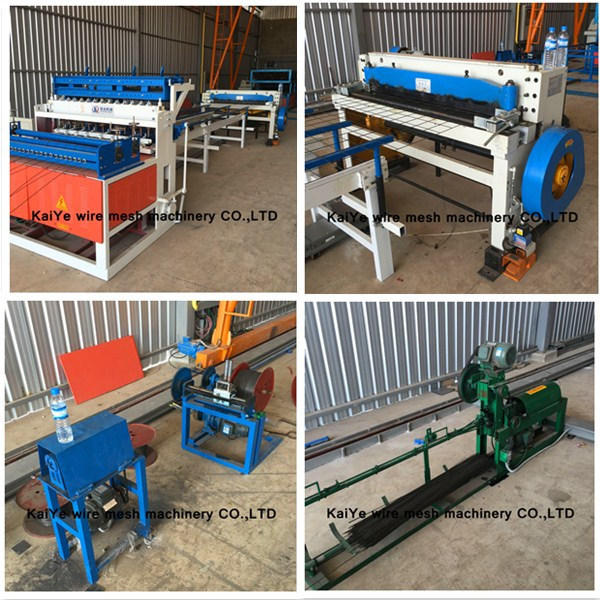 3D construction Panel and eps board machine lines
What is 3-D panel:
3d panel is a prefabricated Three Dimensional Lightweight Structural panel consisting of a super-insulated polystyrene core sandwiched between two engineered layers of 10 ga Steel welded wire fabric mesh. To complete the panel form process a 10 ga Steel wire truss is pierced completely through the polystyrene core and welded to each of the outer layer sheets of 10 ga Steel welded wire fabric mesh.


Usage:
-Fast High Quality Construction Time saved
50% faster than standard construction Speed, occupancy -Â Saves money on construction loan dollars
Due to easiness of installation, the terms are 10 times decreased!
-Enhanced resale and marketability value
-Reduces the need for heavy equipment on job fewer trades on job site.
-Strength Durability Greater Structural Integrity
-Monolithic design for superior Strength, Safety and Security
-Excellent performance in seismic zones (Earthquake Resistance)
-Noncombustible structure Savings of 18% to 30% on fire Insurance
-Excellent Hurricane protection-up to 225mph wind load
-Insect Termite Rodent Resistant to Mildew and Mold growth, fungi resistant.

Product description:
3D panel is a load bearing wall building material which adopts 3-dimension spatial steel wire mesh frame as the framework, anti-flaming polystyrene (EPS) foam panel or rock wool panel as heat protective core layer. External layer of the wall building material is sprayed with the pea gravel concrete or slush. It can be used to build the self-supporting house under the height of 10 meters according to the specifications constituted by the associated Chinese associated branches. According to US and European specifications, 3D panels can be exclusively used as the load bearing walls, the roof surface plates and floors of the self-supporting house under 7 storeys.


The production line is composed of KY-1200-A welder, KY-1200 plane mesh welder, the steel wire rolling device, the steel wire bending device, the air compressor and purification plant and cement mortar spraying machine and so on. The micro-processor is used to control the whole production process of automatic wire feeding, welding and cutting and so on. Production capability per year can reach 450,000~600,000 m2. The touch screen of the liquid crystal display and the overhang frame integrated device are provided. Modular design is adopted for control unit. Multi-item self-test functions are provided. The equipment has good maintainability, stability and reliability.
Guarantee and after-service:
1. Our technician will help you install the wire mesh machine and training your workers.
2. One year gurantee for whole machine except vulnerable parts.
3. 24 hours technical support by email.
4. Door to door service can be provided.      

5. We can according to your requirements production machinery


Q: Does your machine have CE certification?
A: Yes,our machine with CE certification.
 
Q: How about payment terms?
 
A: 30% TT deposit +Â 70% TT before shipment,50% TT deposit +Â 50% LC balance, Flexible payment can be negotiated.
Q: Do you offer turn-key solutions?
 
A: Yes, we provide consultancy service and turn-key solutions.
 
Q: Installation and commissioning?
 
A: We will send our engineer for installation and commissioning, but relevant cost will be paid by you.
Q: Do you have some videos where we can see the line producing?
 A: Yes, we can provide some videos for reference.  



Contact :Â larry




 




 




 




Tel :Â (+86)-311-86211202 Fax :Â (+86)-311-88632356
Digital Advertising Equipment,Equipment For Advertising,Advertising Photography Equipment,Advertising Cutting Equipment
Jinan Zhuoxing Intelligent Technology Co., Ltd. , https://www.zhuoxingcutter.com