Motor Brand:
Siemens, ABB, Weg or Chinese Best Brand
Screw & Barral Material:
38CrMoAl, Bimetallic, Nitrogen Treatment
Heating Method:
Electrical Heating, Electromagnetic Heating
Material of Heater:
Cast Aluminium, Cast Copper, Mica, Ceramic Heater
Cooling Method:
Air Cooling
Degassing:
Vacuum Degassing, Natural Degassing
Cutting Method:
Die Face Cutting, Pulls Strap Cutting Method
Voltage:
380V50Hz or Custmized
Control Method:
Inverter/Frequency
Transport Package:
Standard Export Packing
Specification:
7000mmx2500mmmx3000mm
Origin:
Zhangjiagang City
Introduction
Δ Material: PE/PP film, PP Woven/sack Bag, Printed BOPP film
Δ Capacity: 60-800KG/HR
Δ Finial pellet size: Φ 3mm× 3mm
Work steps
1. Feeding:
as standard design, plastic scraps such as film, filament, raffias conveyed into the compacting room through belt conveyor; to handle rolls' scraps, roll hauling off device is an optional feeding method. Motor drives of conveyor belt and hauling device cooperate with ABB inverter. Feeding speed of conveyor belt or roll hauling off is fully automatic based on how full the compactor's room is. Metal detector can be combined with belt conveyor, and can interlock with control system, to warn and stop the system, in case that metal is found in feeding section.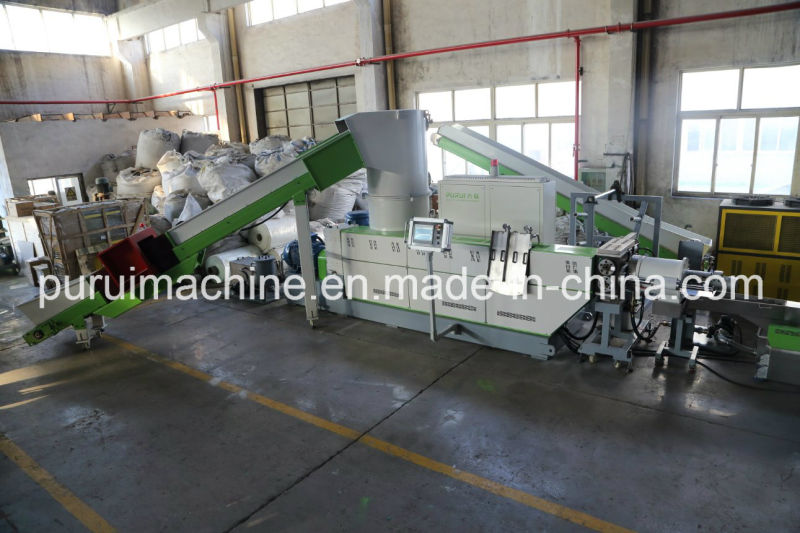 2. Crushing and compacting:
the rotatory blades of compactor will cut up incoming scraps. Frictional heating which caused by high speed rotatory blades will heat and let scraps shrinking just below their agglomerating point. Optimal designed guide structure compacts the material and directs it into extruder screw. Crushes, dries and compacts the material which enables a fast and stable feeding from the compactor directly into the extruder.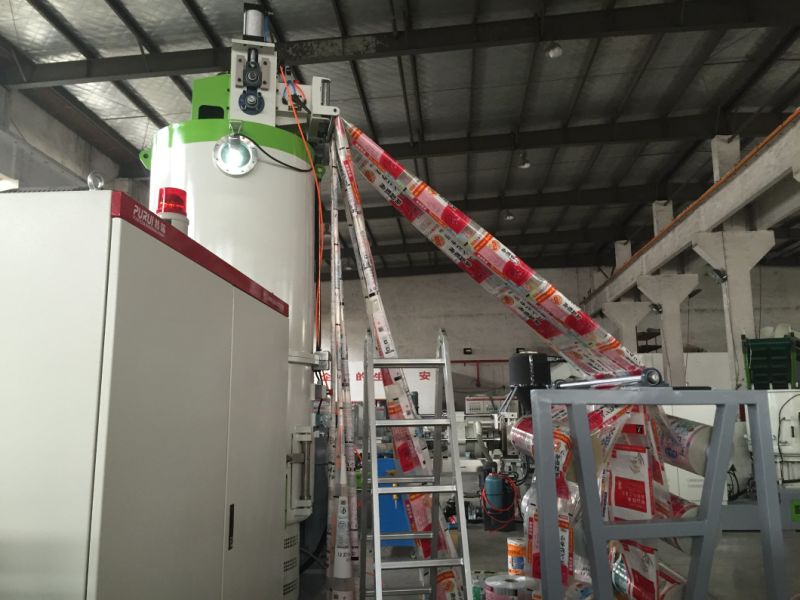 3. Plasticization and degassing:
A specialized single screw extruder applied to gently melt the pre-compacted material. The plastic scraps will be well melted, plasticized in a 32 to 34D processing section. With double-zone vacuum degassing system, volatiles such as low molecular and moisture will be removed efficiency, especially suitable to heavy printed film and material with some water content.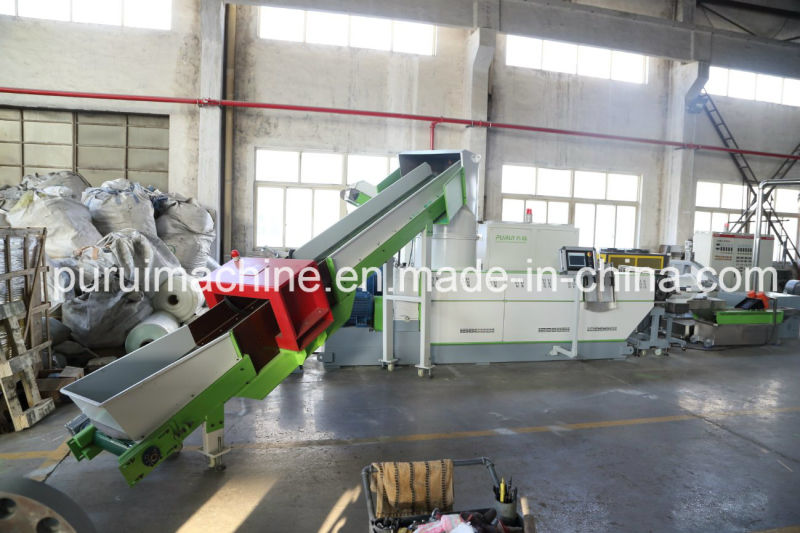 4. Melt filtration:
a regular single-plate/ piston double-station screen changer or non-stop double-plate/ piston four-station can be installed on head of extruder to present significant filtration performance. The requirements on the filter technology depend heavily on the quality of the input material as well as the planned use of granules.
5. Pelletizing:
die-face water ring pelletizing system set as the standard granulating method in MLsystem. Self-adjusting pelletizing head for the best granulate quality and long uptime thanks to consistently correct blades pressure. RPM of rotatory blades is automatic based on melt extruding pressure. Advanced dewatering vibration sieve combining with horizontal-type centrifugal dewatering present high performance dried pellets.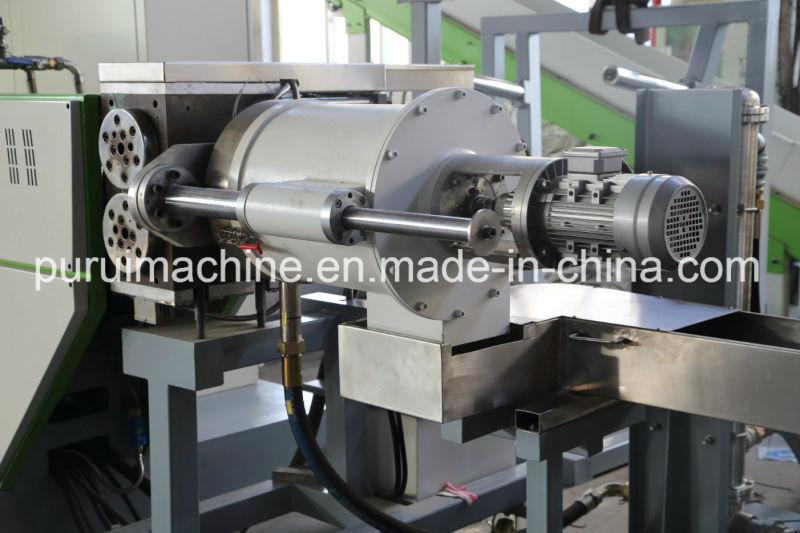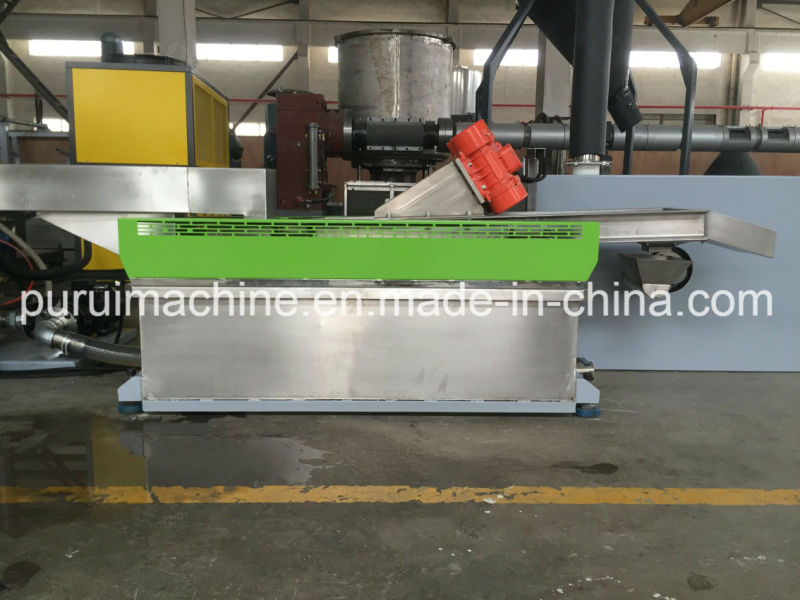 Final pellets(PE film)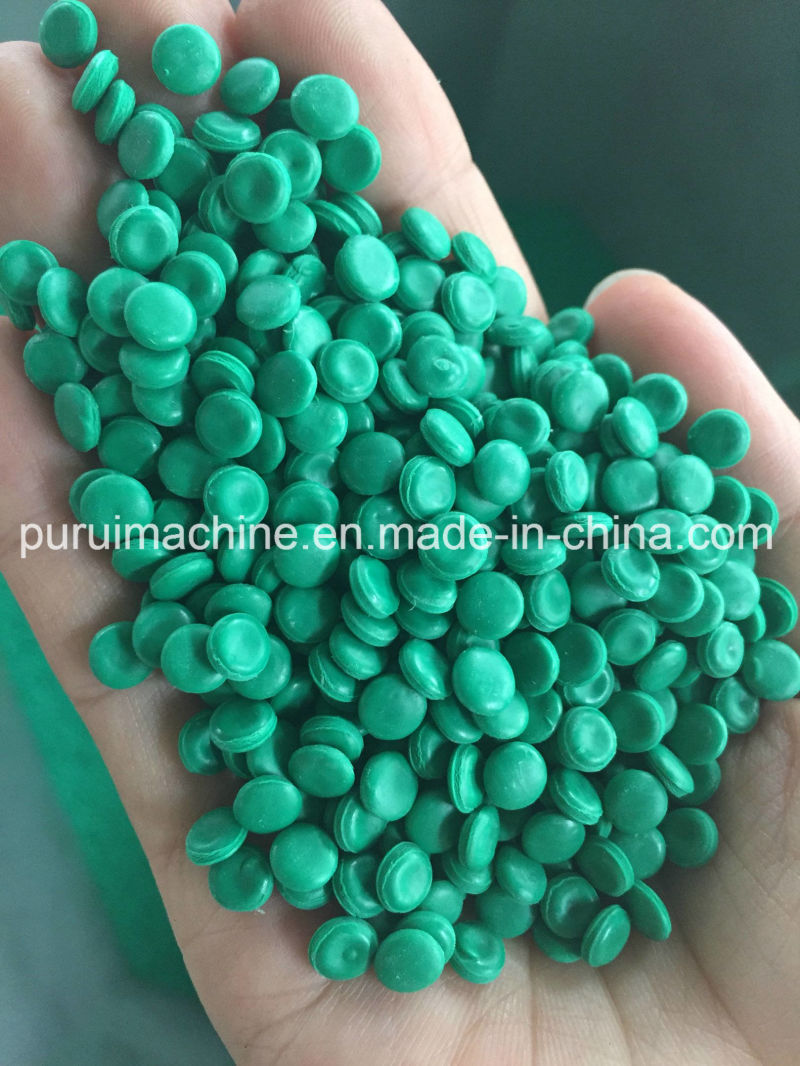 Main technical parameter
Model
ML85
ML100
ML130
ML160
ML180
Output
PP
120KG
250KG
400KG
600KG
800KG
HDPE
150KG
300KG
500KG
700KG
1000KG
LDPE
180KG
400KG
600KG
800KG
1200KG
Machine weight
4000KG
6000KG
8000KG
12000KG
15000KG
Total power
140KW
215KW
325KW
420KW
590KW
 
Compactor/agglomerator
Compactor diameter
φ800mm
φ1000mm
φ1200mm
φ1300mm
φ1500mm
Blade(rotary/stable)
6/5
6/12
9/12
9/13
12/15
Motor
37KW
55KW
90KW
110KW
160KW
Extruder
Type
The degassing zone is designed by properties of different material
Screw diameter
φ85mm
φ100mm
φ130mm
φ160mm
φ180mm
L/D
33/1
33/1
33/1
30/1
30/1
Screw rotary speed(RPM)
0-120
0-120
0-120
0-120
0-120
Barrel heating power
24KW
35KW
54KW
75KW
120KW
Barrel cooling method
BY AIR
BY AIR
BY AIR
BY AIR
BY AIR
Temperature control zone
0.3KWx4
0.3KWx5
0.5KWx5
0.5KWx5
0.5KWx6
Motor power
55KW
90KW
132KW
185KW
250KW
Screen changer
Type
Two position plate hydraulic screen changer(without stopping machine and will not influence the final output)
Heating
7KW
10KW
16KW
20KW
30KW
Temperature control zone
1
1
1
1
1
Oil pump
1.5KW
2.2KW
3KW
3KW
3KW
 
 
Die & cutting system 
Die mode
Round shape die plate
Heating power of die
5KW
6KW
10KW
10KW
10KW
Cutting method
Die face cutting system
Cutting motor power
1.5KW
1.5KW
2.2KW
2.2KW
2.2KW
Temperature control zone
1
1
1
1
1
Water Pump
2.2KW
3KW
4KW
4KW
4KW
Power of centrifugal dryer
2.2KW
3KW
4KW
5.5KW
7.5KW
 
In order to match your requirement and provide you a proper quotation, please advise:
• What material do you want to recycling? PE film? PP woven bag? HDPE/PP bottle? or other plastic?
• What capacity(kg/h) do you want?
• What is the final size(mm) of granules you want?
• Other special requirements about the PE plastic pelletizing machine you want.
Our service:
Before-sale
• Introduce products in detail   
• Recommend suitable solution   
• Offer test
During manufacturing
• Provide layout and engineering conditions   
• Offer screw plan and related documents
• Inform the project processing status   
• Insure the product designed in accordance with technical document
After-sale
• Provide installation, commissioning and training   
• Offer spare parts
• Provide necessary technical support and update information
Feel free to contact with me if you want to learn more information.
Contact persion:Ms. Laura
Mob.:86 15962366319
The power range of VIGOROUS Diesel Genset Powered By Perkins is from 7.2kw to 1800 kw.
VIGOROUS Perkins Engine Generator adopts Genuine UK industrial diesel engine, with low noise and low emission. VIGOROUS has a vast array of Perkins generator for all applications. From small generators to the large and powerful, they provides cost effective power solutions as prime and standby generation.
Perkins Engine feature exceptional performance criteria in fuel economy for prime power applications and high load acceptance for standby installations.
Alternator can be Stamford, Marathon, Faraday and other brands.
Type: soundproof, open, rainproof, mobile power station and container.
8-24 hours base fuel tank.
The spare parts are easy to get from worldwide market with much cheaper price.

VIGOROUS Perkins Engine Generator has more reliable performance and longer service life. It is the ideal solution if you`re looking for reliable, economical power from a compact unit.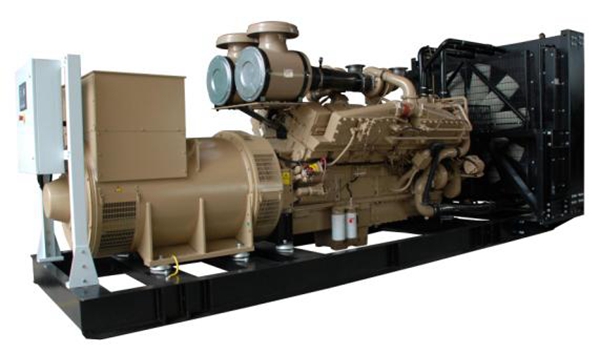 Diesel Genset Powered By PERKINS
Diesel Genset Powered By Perkins,Diesel Generator Set,Perkins Generator Set,Efficiency Generator Set
Jiangxi Vigorous New Energy Technology Co., Ltd. , http://www.vigorouspower.com